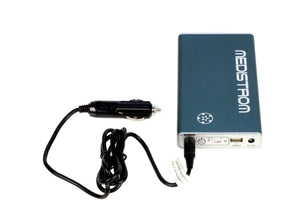 Medistrom™ Car Charger for Pilot-12 & 24 Lite
Traveling to places where main power is not available?
No Problem! You can charge your Pilot-12/24 Lite Battery from your vehicle's 12V cigarette lighter socket!
Easy to use: plug one end of the Medistrom™ Car Charger into the car cigarette lighter socket, and the other end into the "CHARGE" port of your Pilot-12 Lite or Pilot-24 Lite. The battery will charge in 3-4 hours.
CAUTION! Make sure the battery is NOT connected to a PAP device while charging via car charger!